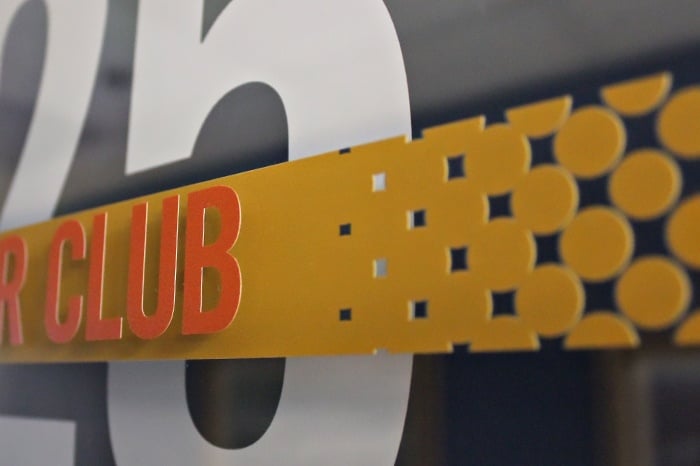 Many of the wide format presses on the market today include white ink as an application, which can open a whole new range of capabilities and substrates. If your printer offers white ink, it is important to understand how the application can be used and the implications it may have in preparing your files for output.
White can be printed as a solid area, or applied as a tint or gradation. Press technologies allow it to be printed as a flood, or spot, in either under print or over print.
Under printing: In under printing, white ink is used as a pre-coat on colored substrates. This allows for more creativity and variety when using colored substrates, wood, metallics or foils.
Over printing: Often done on clear materials, over printing is ideal for backlit print jobs. The white ink acts as a diffuser, spreading the light evenly for brighter, more evenly illuminated backlit displays.
Spot printing: Spot white printing gives colors extra pop while allowing metallic or mirrored substrates to show through, creating a striking visual effect. It can also bring images to life and create high impact by enhancing specific parts of an image.

These techniques allow for a broad range of creative impact on your piece. Building a file for this type of artwork, however, will vary in complexity depending on the use of the white ink.
In its simplest application, a large image would include a solid colored shape with a spot color named "white_ink" or another identifiable name to ensure the file is prepped correctly. A more difficult application, for example, would be highlighting snow on the fur of an animal. To achieve that type of effect, you would need to create a spot channel in an image editing application. Although this path can take more time, it is well worth the effort and can create some stunning prints.

Though white ink can be used in a variety of useful and creative ways, it's important to also consider the design of the project as a whole. Material options have expanded to include solid colors and visual textures that can make your piece stand out before the ink is even laid down. Consider the message the piece needs to communicate, how it's best achieved, and then how to incorporate white ink or other treatments to make it stand out.
If your next wide format design will include white ink and you're unsure what's possible or how to set up your file, contact your printer for advice before beginning the design. For additional help, download our how to guide for preparing your design file with white ink.
---
Learn more about designing for wide format and environmental graphic projects in our free on demand webinar.