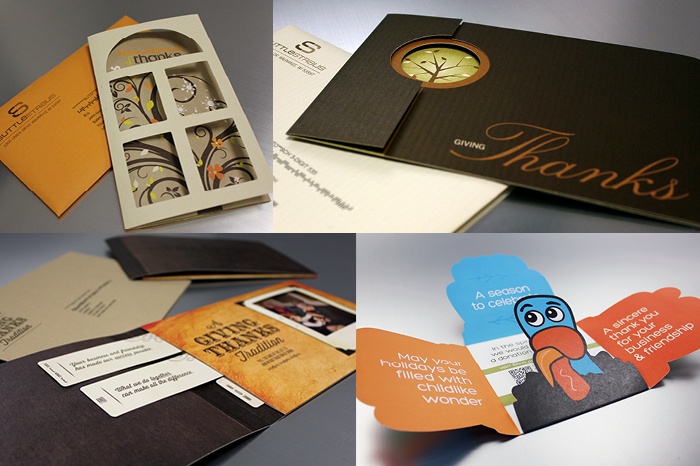 As graphic designers at Suttle-Straus, we feel it's important to design a unique and memorable holiday card each year that our customers will hold on to and potentially use as inspiration for one of their own. With the holidays fast approaching, we wanted to recap some of the more interesting holiday pieces we've created. We focus our designs primarily on "giving," which is seen in the pieces below. Many of these designs were also ADDY Award winners – an award presented by the American Advertising Federation for design excellence. We hope you enjoy part 1 of this 2-part series!
Holiday cards don't need to mail in December. Consider beating the rush with a "Giving Thanks" themed design and send it out earlier in the season, arriving just before Thanksgiving. Not only will you be among the first cards in your customers' mailboxes, it is the most appropriate time to say thank you. This was the approach we took with the following cards.
modified iron cross fold
This is a modified iron cross fold, printed conventionally on a Neenah classic column stock with UV inks. The tip-on was printed digitally and featured a personalized URL (PURL). By visiting the PURL, recipients were able to select a charity to which Suttle-Straus would make a donation. We received many comments from customers thanking us for supporting charities that they also support. Because of the outpouring of feedback, this year's campaign set the tone for many subsequent holiday mailers. ADDY Award Winner.
Die-cut Roll Fold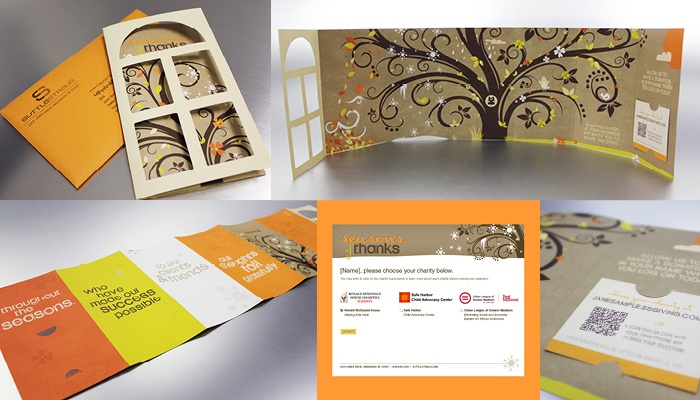 Following the "Giving Thanks" theme, our "Season of Thanks" holiday card was printed conventionally using 6-color UV ink on a Mohawk Loop 80# cover paper stock, die-cut, and mailed with a matching orange envelope that was printed 1-color. This extreme roll fold had seven panels and included a digitally printed tip-on, which directed recipients to a PURL. We had over 55% of our customers participate. We also increased our Facebook following as customers commented about the campaign in order to gain an additional donation in their name. ADDY Award Winner.
die-cut sliding tab reveal
This "Traditions" themed card was beautifully engineered and included nostalgic photos of the Thanksgiving season. The card was printed on a 17pt Neenah Blotter paper with UV inks and die-cut, while the three sliding tabs were printed on 100# Sterling Gloss cover with UV inks and dispersion varnish. The card mailed in a natural kraft envelope. When pulled, each tab revealed a different message and photo, providing an interactive customer experience. Again, PURLs were offered for charitable donations. On the welcome page of the microsite was a video matching the theme. ADDY Award Winner.
Contour Cut Iron Cross Fold

The "Shake Your Tail Feathers" holiday card was a fun play on a youthful theme, based on the children-related charities and a literal play on the holiday itself. This piece was printed digitally with an additional spot ink clear, then die-cut with a unique iron cross fold and mailed in a clear square envelope.
In a sea of holiday cards, it can be advantageous to design one that will stand out from the crowd with a unique fold, design or message. It's a great way to keep your business top of mind with your customers, and if done well, can leave a lasting impression the whole year through.
See "seasonal greeting" ideas in part two of this holiday series!
We'd love to hear your thoughts - which design is your favorite? Let us know in the comments below.
Need design help for your next holiday campaign? Contact our team for creative ideas and samples.