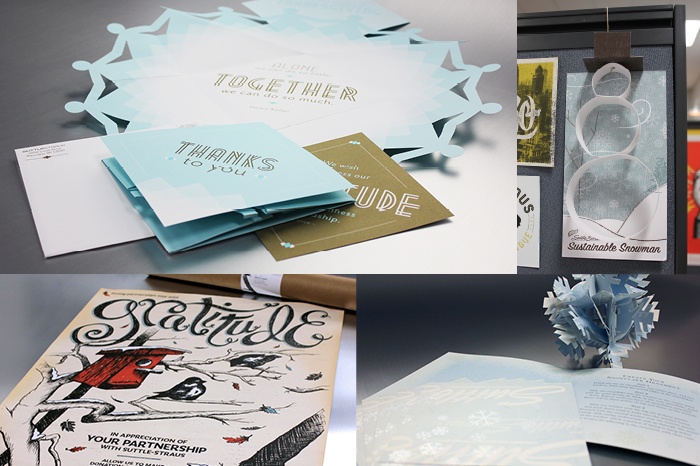 A couple weeks ago, we posted a holiday inspiration article featuring cards that followed a "giving thanks" theme. This week, as part two of the series, we're providing ideas for "seasonal greetings."
If you live in a cold weather state (like we do), a winter-themed card can be a welcomed change from the traditional imagery of holiday cards – especially when they're interactive.
Interactive Snowflake ornament
This unique snowflake trifold card was printed on a soft touch paper and the interior pages were printed with a spot gloss varnish and die-cut. The card featured directions on how to assemble the snowflake and included a silver cord to hang. The result was a beautiful decoration that customers could hang in their office all season long. ADDY Award Winner.
build your own snowman

This cute snowman was another interactive piece, which required customers to build a snowman, inspired by the paper ring garland many of us made as kids. The piece was printed just 2-color, which gave it a unique look and feel. The back of the card featured tips for creating sustainability gifts throughout the year and directions for assembly. Because of the sustainability message, it was printed on FSC 111# Savanna limba cover and included a 1mm hemp cord. To give it a personal touch, it was hand signed by Suttle-Straus sales representatives. Many customers sent us photos of their "Sustainable Snowman" hanging in their offices, similar to the photo above.
Poster

This next "Gratitude" poster concept was printed 18" x 24" conventionally and sent in a poster tube for added intrigue. It was hand-drawn by one of our creative team members. We still hear customers say they have it hanging up in their offices. ADDY Award Winner.
snowflake multi-directional fold
This next concept took on a winter snowflake theme and incorporated the giving thanks message. Printed 2-color, including 1 metallic ink, and sent prior to Thanksgiving, it included 4 charity options for recipients to choose from. Because of its unique fold and die-cut design, it was a featured piece on the Fold Factory's Super Cool Fold of the Week. To go along with the mailer, we also created supplemental pieces – a video that featured several of our employees sharing what they were thankful for, as well as desktop and mobile wallpaper downloads of the design. ADDY Award Winner.
Bonus
Ever consider designing your own wrapping paper? We did! This was truly a unique and memorable gift!

Featuring several coatings in a fun and useful way, the stylish packages were designed with a small swatch book for customers to keep at their office for reference. The full size sheets of wrapping paper could then be used for personal gift giving. They served as a long-lasting reminder all year as the colors used were not holiday-specific.
Consider ways to stand out from the crowd, not only this holiday season, but all year long. Contact Suttle-Straus to see how we can help you produce a piece that will leave a lasting impression in your customers's minds.
Stay tuned to see what Suttle-Straus designs this year!
We'd love to hear your thoughts - which design is your favorite? Let us know in the comments below.
Did you miss part one of this series? Read about "giving thanks" ideas here.