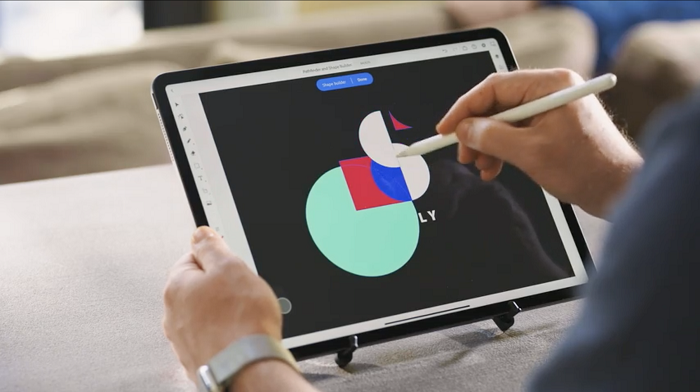 For all of the challenges that 2020 has thrown at us, there have been some bright spots as well. Most recently, the Adobe MAX conference was converted to a digital experience, as so many things have been. But more importantly, the registration fee was waived for all. Adobe saw the need to do its part to spark as much creativity as possible, while showcasing its incredible suite of tools for the creatives of the world of all experience levels.
Here are some of the most interesting new design tips and tricks our team took from the conference:
One of the notable announcements was the progress in expanding the applications into the mobile world by adding Illustrator to the iPad. Although it was announced last year, the demos showed how intuitive it is to work with the Apple Pencil for more precise input.
Adobe Fresco
Adobe Fresco joined the party by expanding to the iPhone. Being able to have a traditional painting-like experience on the go, wherever creativity strikes you, is going to open some new creative outlets. Of course, all of these mobile apps stay synced via the the Adobe Creative Cloud, so no matter where you are inspired, you always have access to your latest version.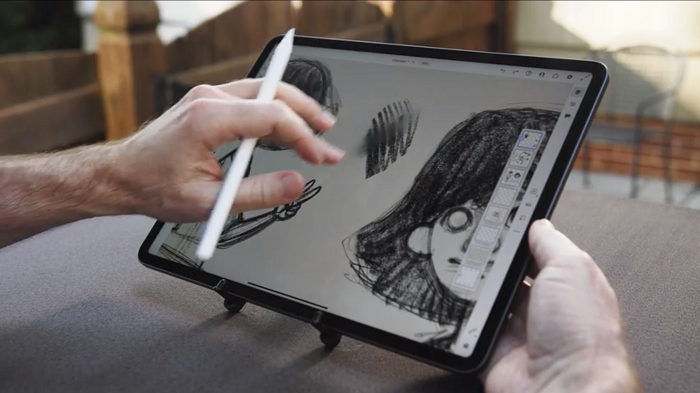 Adobe Aero
In my opinion, one of the most exciting new apps available from adobe is Adobe Aero. It is Adobe's application to create interactive 3D graphics for augmented reality. It has broken down some of the more technical aspects into a creative-friendly workspace. It allows someone with limited 3D and programing experience to create some immersive AR graphics that the end user can interact with. I feel that we are going to be seeing a lot more of this type of work in the future.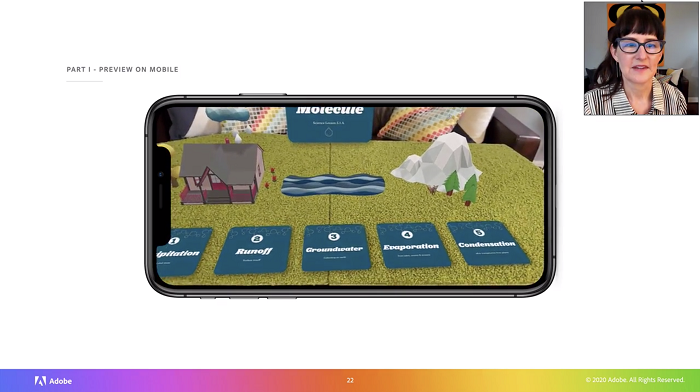 The flagship apps that we depend on also got some love that will have an impact on how we all work.
Adobe InDesign
Adobe InDesign added a robust collaboration tool to help streamline the review process directly in the app, via a web browser link. It collects the input and changes needed, and they are loaded directly into the document for the changes to be made.
Text Wrap – Select Subject allows some imported graphics to have text wrapped around without creating a boundary manually. It is one of the many features across the Adobe apps that utilize the Adobe Sensei artificial intelligence (AI) to accurately automate some previously difficult tasks. Sensei also helps in the Adjust Layout feature to quickly tweak the page size while keeping the integrity of the design layout.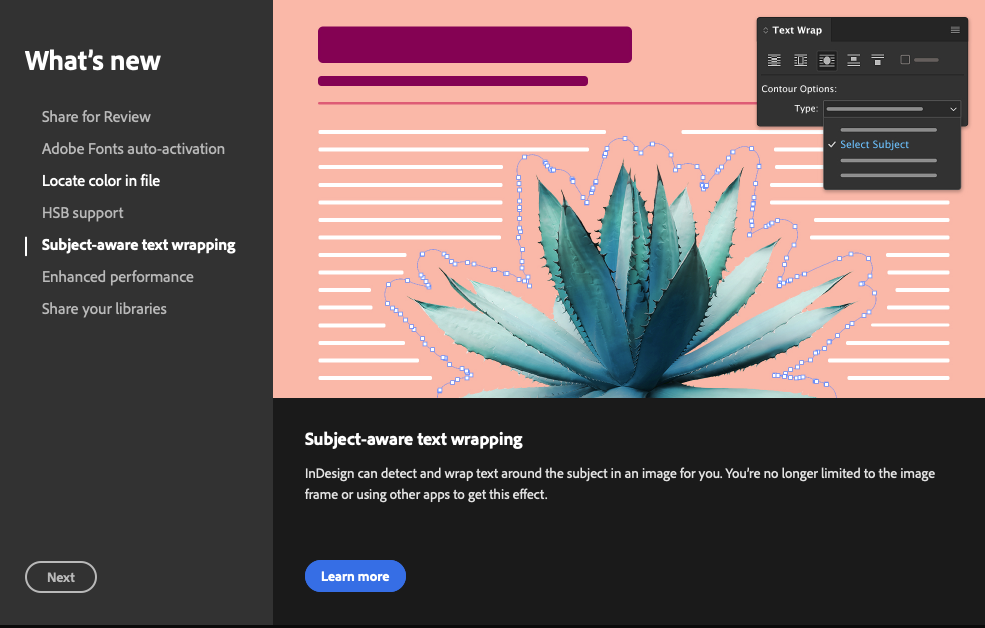 There were several speed-increasing tools shown off as well, such as Gridify, a quick way to create a grid of shapes simply by holding the option/alt key and tapping on the arrow keys. Use the space bar after making the selection to alter spacing. This can really increase your workflow speed while maintaining accurate spacing.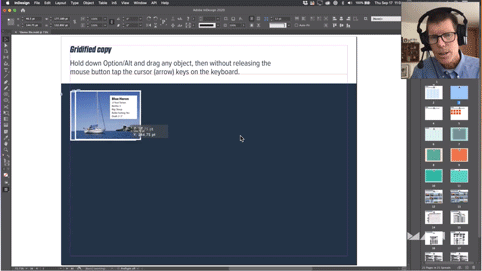 Adobe InDesign also added a Quick Response (QR) code generator directly into the app. That element was shown while taking 2D content into Photoshop, saving to Aero, and the link was converted to a QR code incorporated into the layout. Now a printed final piece can have an interactive element that can boost user engagement.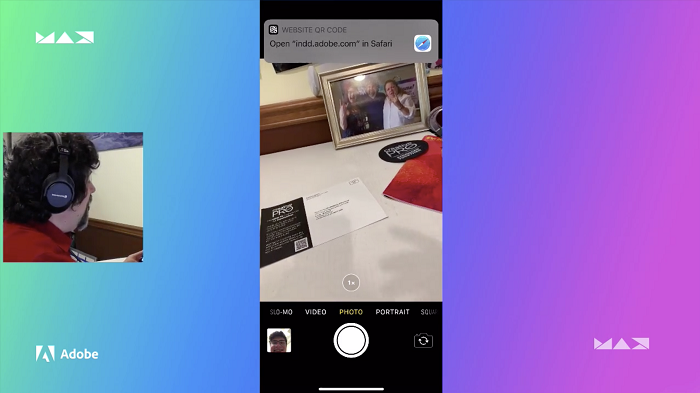 Adobe Photoshop
Adobe Photoshop also used the Sensei AI with neural filters to allow you to change everything from someone's age, expression, and the direction their head is facing. While not perfect, it is impressive how easy it is to tweak so much all at once with a live preview.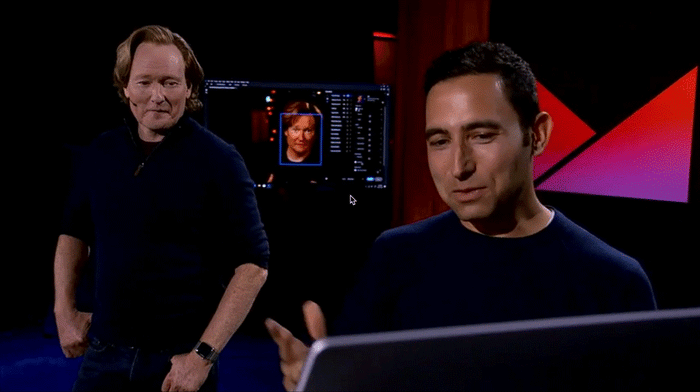 There are so many tips and tricks that were shared, it is a challenge to retain them all. Thankfully Adobe Max is allowing viewing of most of their content free on demand for the next 12 months.
One of the most insightful and entertaining sessions was the Aaron Draplin presentation called "What I have Learned Since March 15: Changes, Lessons, and Enlightenments." The Portlandian's humor and sincerity really sums up the challenges he has faced, and the steps he took to navigate those. (And by navigate, of course I mean rarely leaving his home/studio.) Draplin Design Co. found ways to use creativity as an outlet for stress relief, to inspire change, communicate the thoughts of so many across this nation in these strange days. His talents are put to good use, and his impact is felt outside of the world of creatives. His jovial attitude, and lightheartedness is inspiring, and I know I am not alone on that. I look forward to the day that I can peruse his merch table at the next Adobe MAX conference.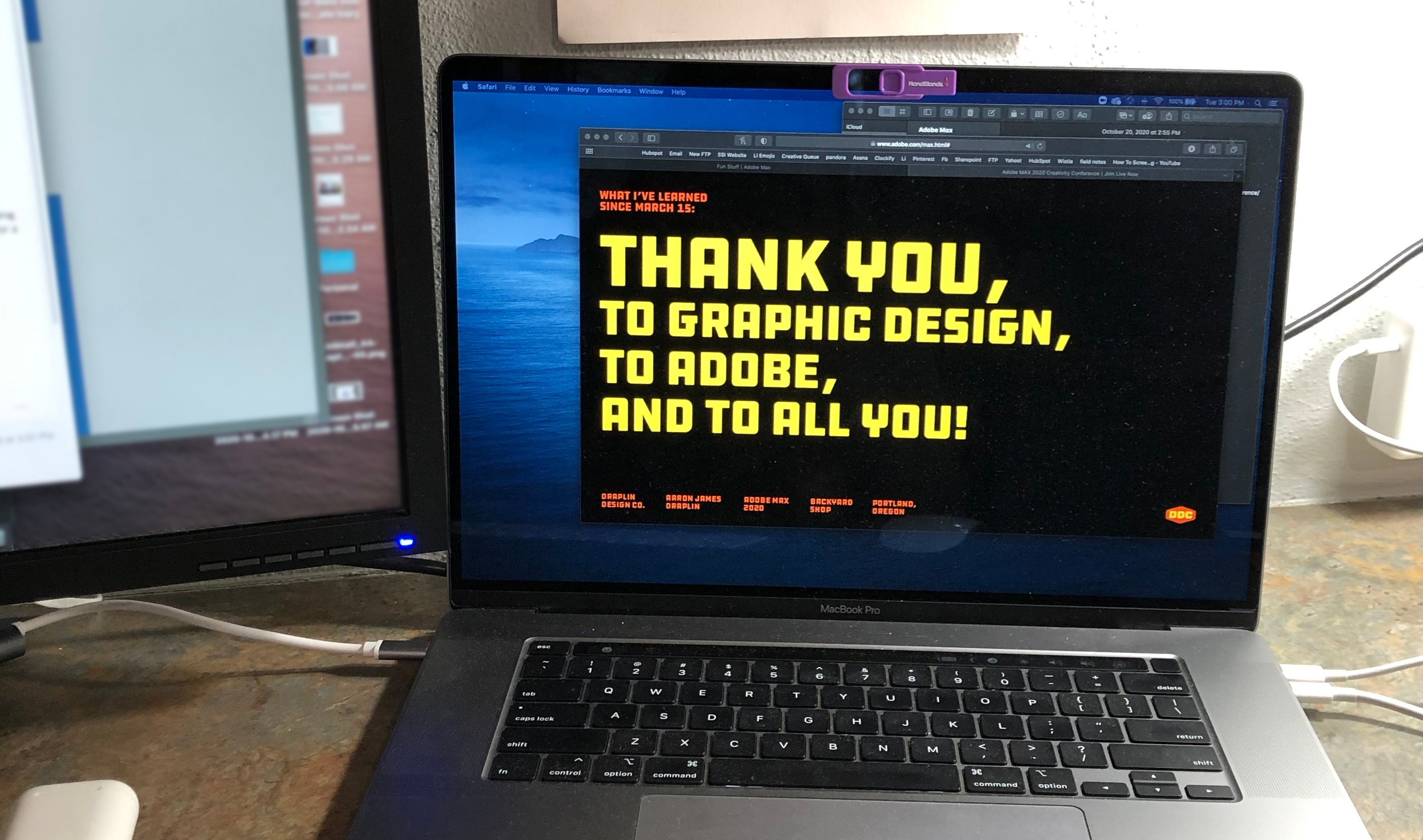 Thank you to Adobe for opening this up to the world. Their tools are in the hands of so many people that are going to do amazing things in the future. Thankfully they continue making their tools even better to inspire us. There are brighter days ahead for us all. #nofilter
Check our our video library for more Adobe design tools and tips, where our Suttle-Straus Creative team has collected some of their favorite Adobe Creative Suite tools into quick videos that show you how each tools can be used.