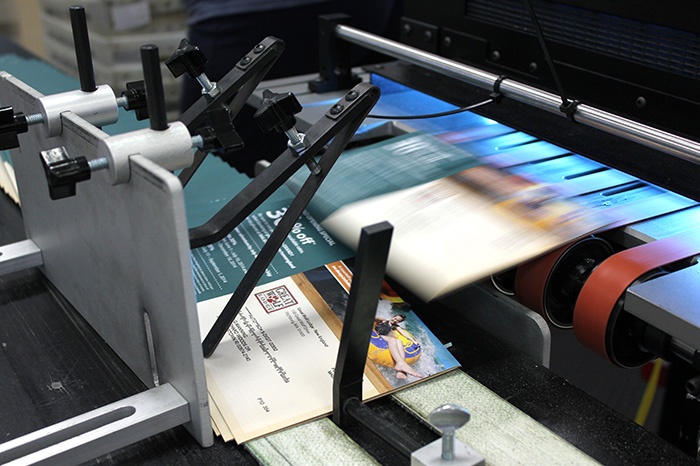 While digital marketing makes up a large part of many companies' marketing efforts today, direct mail is seeing a resurgence of relevance and value.
Thanks to a range of new tools allowing marketers to personalize their mailings and deliver targeted offers based on individual interests, advanced direct mail campaigns offer a refreshing alternative to the overstuffed inbox.
This trend toward creating a more physical, meaningful connection with brands has grown in recent years.
Nearly twice as many US adults now react positively to receiving mail than react negatively and according to the Direct Marketing Association1, nearly 2.5 billion mailed coupons were redeemed last year alone.
The Power of Personalization through Variable Data Printing
Seventy percent of US consumers say that they find snail mail more personal than advertising online.
Consumers also report finding personalized messages far more relevant to their buying interests and are more likely to open those than ones that are simply addressed to "resident" or "our local friend."
Variable Data Printing (VDP) is a type of digital printing where elements can be changed on the fly. Images, text and other factors can be switched out to best fit specific groups of recipients. It is the technology that makes personalization possible.
Want to build more powerful direct mail campaigns with personalized mail? Here are some basics to get you started.
Who Should You Target and Why?
The best response will always come from the people you know – your existing customers. They know the quality of your products or services and have done business with you before. Don't leave them out of your direct mail campaigns.
If you would like to prospect for consumers that "look like" your existing customers, you can purchase a list of qualified consumers in your market. For example, if you know that your product is most frequently purchased by a female between the ages of 25-65, who is a homeowner with children in the home and a combined household income of $150,000+, you can select only the people that meet these demographics within a zip code(s). If you need help obtaining a list, you can work with your direct mail provider, who has access to partners who can supply this type of information.
The more you know about your customers and what motivates them to buy, the more effective the mailing will be. If you are collecting a wealth of information about your customers based on their purchase histories, surveys, prior offer engagement and other means, personalized mail tools allow you to syphon that rich data directly to your mail pieces for more meaningful engagement.
How to Segment Your Database And Your Message
By segmenting your database, you can target your mailings based on specific interests and demographic information. In addition you can track the effectiveness of the offers to certain groups to either continue with that offer in the future or try something else.
This level of personalization allows you to divide by gender, income level or a number of other factors to tailor your offers and marketing messages around what people are actually interested in.
Rather than a single campaign message or offer, you can create several different ones based on the metadata associated with each consumer or prospect.
Your message and imagery may be related to purchase history for your current customers, or demographic information such as children in the home (as it would apply to the prospect example earlier). Together with the ability to address each recipient by name, this higher level of personalization allows you to deliver a meaningful message and build the kind of authentic relationship customers crave from brands today.
You can also alter the language in mailers. For instance, younger consumers may react more positively to a casual approach while the baby boomer generation may prefer a more formal tone.
Measuring Your Success
In order to track the effectiveness of your direct mail it is important for the recipient to bring the direct mail piece with them to receive the offer. Not only does this give the marketing a longer shelf-life in the home, purse or wallet, it also allows you to track the effectiveness of the offers. For example, if you are using a coupon, code the offers separately to determine the most effective offer.
In any marketing initiative, it is important to collect data to see how effective your efforts are. This can help you decide what your prospects respond to best and can help you continually improve your return on your direct mail marketing investment. Important metrics to measure include:
Cost per Responder (CPR). Determine this by dividing the total cost of the campaign by how many people responded. If a campaign costs $1,000 and you have 80 responses, your CPR is $12.50.
Response rate. This is determined by dividing the number of mailers by the number of people who respond. The average response rate for direct mail is around 4%. If your numbers don't match up, it could be time to determine what needs to be changed to increase your engagement.
Earnings per mailing. If you are spending $10,000 on a campaign that earns you $100,000, this is money well-spent. If you are not getting a strong return on your investment, look into cutting costs through activities like better targeting or ways to increase engagement.
By putting forth your best efforts and tracking the effectiveness of what you send, you can build strong and profitable relationships with your customers. Incorporate personalized direct mail into your marketing strategy to see a high response rate and better return on your marketing dollar.
Interested in creating your own personalized direct mail campaign? Contact our team to learn how we can help you build a more dynamic direct mail presence.

References
https://thedma.org/knowledge-center/marketing-statistics/direct-mail-statistics/