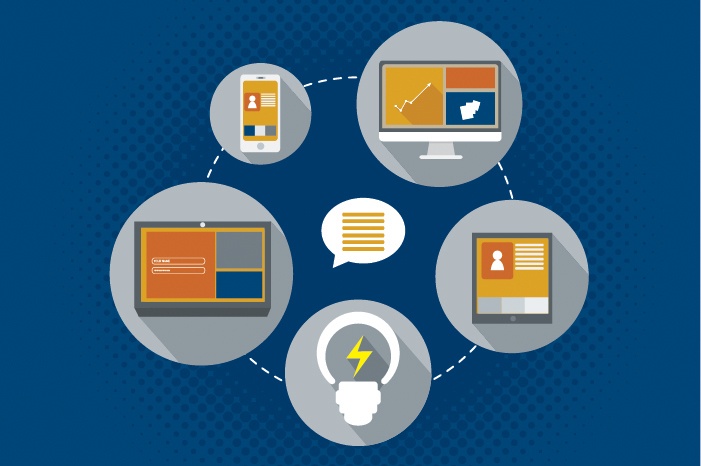 Franchises, like other brick and mortar businesses, have traditionally relied on advertising and other "tried-and-true" marketing efforts to drive business locally.
While these channels hold huge potential for exposure and growth, franchisees often struggle to make each of their marketing actions work together to deliver effective local campaigns.
Whether you're struggling to gain traction with local digital marketing, or simply can't connect traditional marketing efforts together into a cohesive campaign, these kinds of problems can lead to customers seeing different messages in different places––a big letdown when customers show up to your location only to find the old campaign materials still lining the walls or that the offer they were coming in for is no longer valid.
Local marketing success means balancing multiple channels to reach customers wherever they may be. To take that one step further, we've highlighted some ways to integrate each of your marketing actions to create a more effective local campaign.
Finding the right combination of local channels
These days, there's no shortage of channels to communicate with customers. The trick is finding the ones your local audience is engaging with and creating a marketing strategy that reflects those key means of connection.
We've focused on four particular channels––two online and two offline––to explain how each of them can be combined with elements of the others to streamline the way customers engage with offers, promotions and other local marketing efforts.
Print
Print pieces are a mainstay of local marketing campaigns, no matter what industry or market you're a part of. From flyers to menus to the signage that greets your customers on arrival, this traditional component of local marketing can't be overlooked.
But how do you get print materials interacting with other components of your campaign? Here's a few ideas:
Social follow invitations
If you're looking to grow your community of followers on Facebook, Twitter, or another social platform, try inviting in-store customers to make the jump online by putting URLs and/or QR codes tied to your social pages on your menus, signs, flyers, and other printed media.
Direct mail sign-ups
Want to fill your mailing list? What better way than by letting people add themselves to it? Direct mail sign-up forms are a great way to keep in touch with those who are actively engaging with your physical location. If your submission box isn't filling up, try dangling a carrot in the form of drawings for prizes, exclusive mail-only discounts and other mail-only promotions.
Digital
Your franchise's website is an important marketing asset that should always invite visitors to take action. Messaging, visual assets and featured offers should be updated with each new campaign. In addition to regular upkeep, here are a few ways to connect it to your other local marketing channels:
Social follow buttons & links
Even easier than typing in a URL or scanning a QR code, is simply clicking a social follow button or link while you're already online. Potential customers may end up at your website for any number of reasons, but inviting them to follow you on Facebook or Twitter for deals, coupons and other offers is great way to convert those customers into active local leads.
Direct mail sign-ups
Similar to the advice for print pieces, you can use your website to grow your offline mailing list as well. While it's also important to gather email addresses if email marketing is a component of your campaign, you may want to include a place for visitors to enter their name and mailing address to receive future offers.
Social
Social media is a huge component of local marketing campaigns for franchises across virtually all industries. According to recent research, the average person checks their social feeds 17 times a day, or at least once every waking hour.
With so much attention on social feed updates, it's important to publish posts regularly to promote current campaigns and keep your pages updated with campaign graphics and imagery. In addition, here are a couple ways to integrate social media with your other marketing channels:
Sponsor campaign-related posts to reach a wider audience
Putting campaign materials in front of your followers is great, but with a little budget behind it, Facebook or Twitter ads (sometimes called sponsored posts) can be targeted to others in your community and those your followers are connected with who aren't yet engaging with your brand.
Repurpose your print materials online
If you have access to your print materials in a digital format, you may be able to use those digital campaign pieces through your social channels. Whether it's displaying a campaign-specific cover photo on your Facebook page or posting your latest print piece, social media gives you an additional outlet to share your print marketing and connect with customers.
Direct Mail
Last, but certainly not least, direct mail has remained one of the most powerful marketing tools in the local marketing arsenal for franchises. While we could write a book about making your mail pieces more effective, here are some ideas for integration, specifically:
Use Personalized URLs (PURLS) or QR codes to connect with recipients online
A PURL is a unique web address that can be personalized to each recipient you send mail to. If they choose to take action, the URL or scanned QR code brings them to a personalized landing page where a customized offer can be presented to them based on purchase history, demographics, or other data.
Social follow invitations
In addition to inviting customers to follow you through print materials in the store, you can also provide prompts through mail pieces too. A simple invitation with a short URL or QR code can go a long way in growing your online community through offline means.

Tools for integrating your local marketing campaigns
All of these ideas might sound well and good, but you may be asking how you can actually tie it all together and ensure the same campaign is represented correctly across all channels.
Marketing Resource Management (MRM) systems give franchisors a digital platform for building campaign assets, which their franchisees can access and customize to resonate with their local audiences. Once the text and design elements are put in place, franchisees submit their orders for approval and the pieces are created and shipped directly to their store.
Here at Suttle-Straus, we build customized brand portals that integrate with key in-house services such as print, mailing, and fulfillment so you can improve the efficiency of your local marketing campaigns. Whether you're planning a new direct mail piece, updating in-store displays, or any other distributed marketing action, we've combined versatile eCommerce and media building tools into one platform, making it easy to build and deliver powerful integrated marketing campaigns at the local level.
References
http://mobilemarketingwatch.com/mobile-social-networks-growing-rapidly-says-new-report-50633/#more-50633