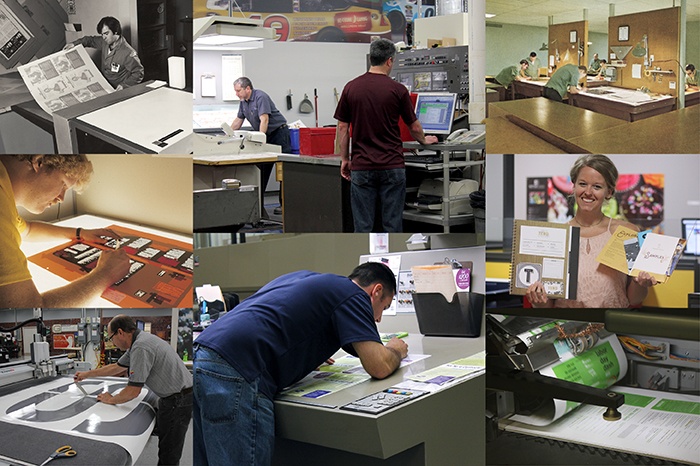 In celebration of International Print Day today, October 19, 2016, we wanted to share some views of the print industry from our team members. We asked several of them the following question. As you can see from the answers, it's a great industry to be in!
What's the best thing about working in the print business?

"The diversity of projects." — Erin Willemsen, S4 Customer Support Specialist and Sue Potocny, Estimator/Planner
"Pushing the envelope – seeing crazy ideas come to life in vivid color." — Eddie Mason, Art Director
"Having the opportunity to work at Suttle-Straus where the culture and the continuous improvement play a huge part in making things happen. It's a great to see what we can accomplish when we work as a team." — Ellen Schlee, Hand Assembly Manager
"I love to work with customers and try to take their vision and exceed their expectations. It's also great to experiment with different coatings, paper, and finishing techniques." — Christine Edgren, Senior Graphic Designer and Social Media Specialist
"It's always changing – new technology, new processes, new products and services. It might be challenging at times, but it's never dull!" — Ron Sweeney, Customer Service Representative
"Being part of the entire process from concept to completion. I love collaborating with creative people." — Karen Wenning, Sales Representative
"The variety of projects we can produce, ranging from conventional offset print through wide format." — Brett Keene, Director of Operations
"Print jobs are like snowflakes; no 2 are the same." — Ward Meyer, Estimating/Job Planning Supervisor
"I thrive on deadlines and the print industry has plenty of those!" — Doug Maurer, Distribution/Fulfillment Manager
"Seeing the end result. I also love to troubleshoot, work on new processes or research new software." — Denise Packel, Pre-Media Support Specialist
"It has changed so much and continues to do so as mediums change and evolve. This keeps it continually challenging and interesting." — Brett Donelan, Pre-Media Manager
"There is something new to be learned each and every day. Even though the process is the same each project runs differently. The same job can be produced year after year but yet each time can require new techniques or different materials to yield the same result." — Jason Sieling, Production Manager
"Finding new and improved ways to process jobs more efficiently." — Mike Haack, Press Team Lead
"Seeing new products and ideas from customers." — Amy Galabinski, S4 MRC Services Manager
"In almost 30 years, I have done just about everything there is to do on the production side of printing. It has been amazing to see the changes that we have gone through in that time." — Dan Pellet, Production Manager, Finishing

Want to hear more from our team? We've compiled a fun eBook full of answers to more questions like, "What's one thing you wish customers knew more about print?" and "If you could change one thing about the industry, what would it be?" Download this insightful eBook here.