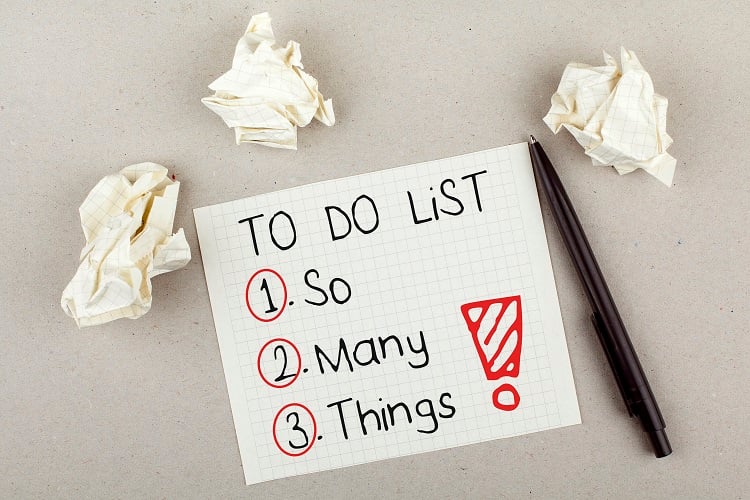 A new year gives marketers a blank slate to reorder their priorities and contemplate new strategies. So take a moment to reflect and consider this a list of 10 to-do's to take your marketing to a new level this year:
1. Test a mailing with a new audience
Digital advertising and screen burnout is at an all-time high and your display and email advertisements are costing more while delivering less. Now is the perfect time to reach your prospect with something tangible like direct mail.
2. Take a video and post to social
The growth of TikTok this year has shown that with social media, video is king. Even if you are not on TikTok, every other platform is prioritizing video over static image or text content. So if you haven't been using video, now is the time to start.
You don't need professional video equipment or a team to produce good video content, all it takes is you and your cell phone. Unpolished selfie videos often perform better on social than professionally-produced content. It will feel uncomfortable at first (as trying anything new does), but push through it and post and see what kind of results and reactions you get.
3. Make new connections
With cancelled events and working from home, you probably didn't make a lot of new connections last year. Take a look at some local clubs in your area you could join to expand your network. Reach out to clients or old colleagues and ask them if they know any experts on a subject you are interested in learning about and see if they have any referrals you can follow or connect with. You can also join groups around almost any subject on LinkedIn and Facebook.
4. Write a blog article
Inside each of our brains is a wealth of knowledge just waiting to be written down and shared. Writing a blog can seem intimidating, so if this is your first one, start with a subject you know best. What experience or knowledge can you share with the world to help people understand something better?
If it's easier to talk than type, just set up a call with colleague or friend and tell them about what you want to write about. Naturally they will ask questions that will probably be common questions your audience will also have, so you can answer them and add depth to your blog.
5. Sign up for Informed Delivery
More than 43 million users are signed up for the Informed Delivery service from USPS to see what is coming in the mail each day. Even if you are not ready to use this technology as part of your next mail campaign, you should still sign up for a free account so you can see how other marketers are using it to enhance their direct mail campaigns to your household.
Part of being a marketer is studying how you are being marketed to yourself and storing ideas in your "swipe file" for later. Informed Delivery is a newer channel that should be on your radar.
6. Consider a logo redesign
Are there aspects of your brand that just aren't working any more? Does your logo feel outdated? Maybe this year is the right time for a logo redesign. Just make sure you don't make any costly logo design mistakes.
7. Source a fun new branded promo product
You've done pens, apparel, tote bags and water bottles. Maybe it's time to find a fun new promotional gift to reward your employees or thank your clients. How about a branded fidget toy, bluetooth speaker or a spa wellness kit?
With the wide variety of promotional products today you can put your brand name on almost anything. Just make sure your recipient will find it useful in their everyday life.
8. Share your knowledge
The marketing world is sorely in need of volunteers and mentors. So if you have the ability to share your knowledge and/or your time, find a non-profit you can volunteer with or a up-and-coming marketer you can mentor.
This past year I volunteered to join the board of our local American Marketing Association-Madison chapter. They still have a few open positions for volunteers!
9. Learn something new
There are great events happening around Madison every month on different subjects where you can explore an aspect of marketing you may not know much about. Whether you want to learn about social media, Google SEO or email marketing automation, there is something for everyone. Here are some places to look:
10. Read a book
In your busy life it can be hard to find the time to read a book. I always loved reading a new business book on a flight to/from a work conference, but with events being made virtual the past two years, I am sad to say I haven't read a business book lately!
So I've decided to make a goal for myself to read one (without the plane ride) and just dedicate time to reading. If you have a suggestion for a good marketing book for me, drop it in the comments below!