The United States Postal Service (USPS) recently provided an update on their Informed Delivery program. More than 42.2 million users have now signed up for an account to get a view of what's coming to their mailbox each day. That's a 24% national household saturation rate. A total of 111,475 mail campaigns have been sent using the Informed Delivery add-on digital service.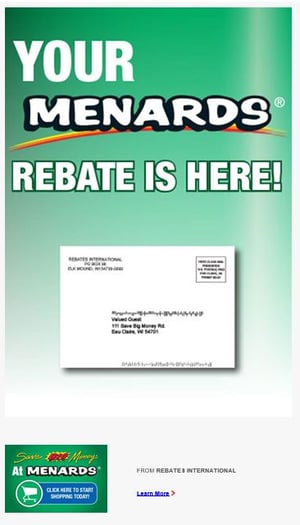 Now that this service has started to "mature," what can we learn about campaign best practices? Here are some examples from my own personal email collection:
Go Big
If you shop at Menards home improvement stores, you know they love using rebates as an incentive to get shoppers to come back to the store. When a rebate is being mailed to a consumer, rather than just using the black and white image scan of the small rebate postcard, they are using the maximum dimensions of a representative image to create big impact.
The ride along image is equally compelling with a call to action to "Click here to start shopping today!" Making your call to action look like button is highly recommended for increased click throughs.
Test and Test Again
Hopefully you already test elements of your mail campaign like the envelope, the copy, the graphics, and the offer to see what performs the best. Your Informed Delivery ride-along ad can also be changed with each mailing to test different creative or calls to action. Geico does a great job with mail testing different offers, and they carry that through with their Informed Delivery assets.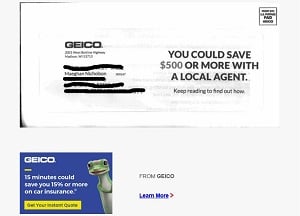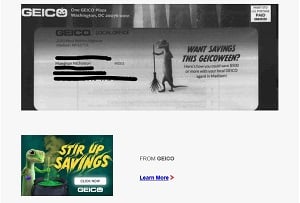 Optimize for the Click
Click rates on Informed Delivery campaigns vary, usually averaging 1-2%, but in the USPS 2021 report they showed the top 10 industry verticals had click rates of around 2% for automotive up to 6.69% for government mailings! (Where's my stimulus check?)
Get creative with your ride-along images to see how you can convince a consumer to click. As an avid couponer who hates cleaning her house, I love how The Cleaning Authority designed their ride-along image with a dashed border to look like a coupon!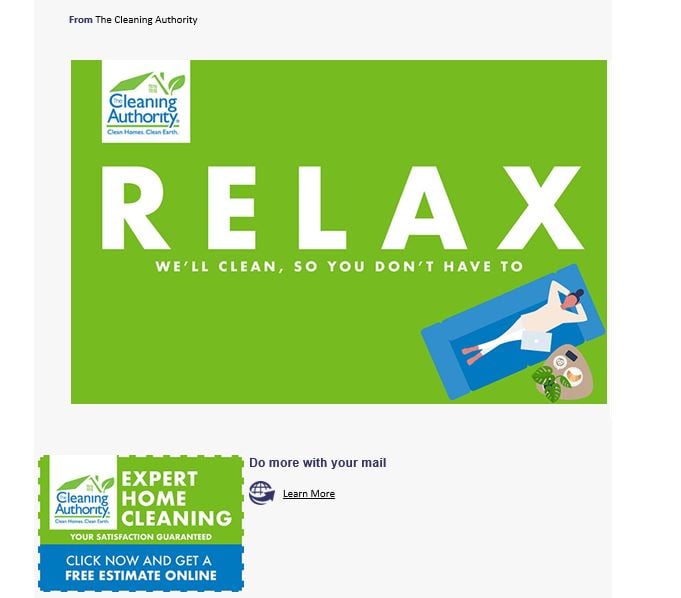 Don't Limit YourSelf
Informed Delivery is not limited to B2C marketing campaigns, it can work for non-profits too. A brand new feature of Informed Delivery is for a recipient to click to "Set a Reminder." This will let them pick a date for the mailpiece to be shown again in their Informed Delivery email. Really helpful for donors who intend to contribute to a cause but may be distracted or busy on the day the appeal arrives in their mailbox.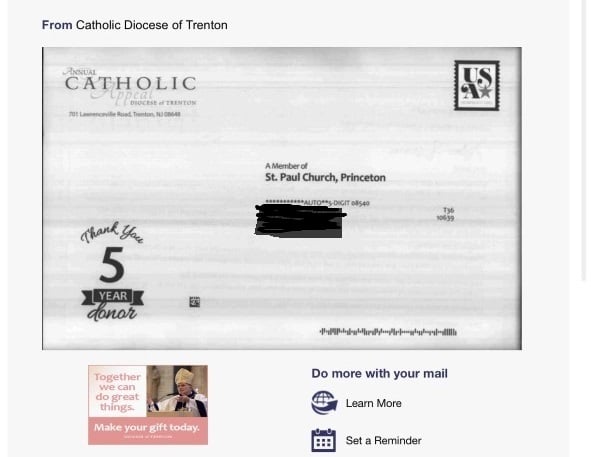 Just Try It!
If you're not part of the 25% of America already using this free service for your own mail, I encourage you to sign up and try it out. Once you start getting the emails, it's kind of addictive!
If you are doing a direct mail campaign and would like to try it out for your business, Suttle-Straus offers adding on this digital service for just $99 per mail campaign.
The USPS even has an Informed Delivery promotion this year. This promotion offers a 2% discount off postage for mailings that incorporate Informed Delivery from September 1 through November 30, 2021. So using this extra service right now can even save you money!
Want to see more example campaigns? Check out my blog from last year: A Secret One-Two Punch to Combine Direct Mail and Email.