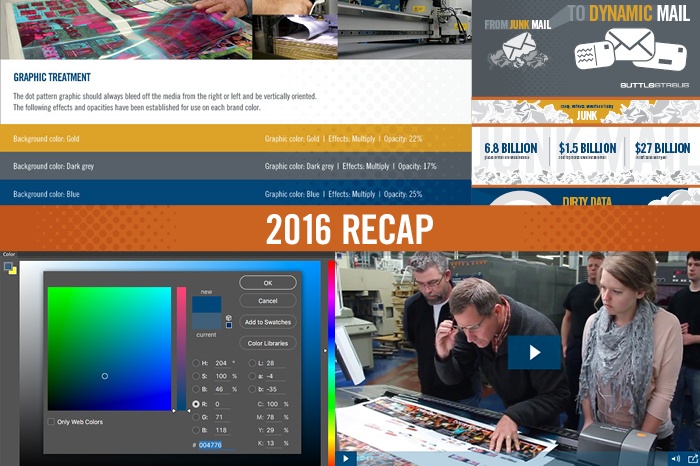 Throughout 2016, we've produce a variety of new, original content in the form of blog articles, eBooks, webinars, and more to keep our customers and followers informed on the latest advancements and best practices in creative, print, mailing, and marketing resource management technology.
With the start of a new year, we thought it would be a great time to recap some of the most popular pieces of content in 2016. We hope you enjoy!
Blog articles

6 Critical Components to Include in Your Style Guide
Does your company have a style guide? Learn what should be in a company's style guide to ensure branding stays consistent regardless of what is being created or who is creating it.

What I Learned as a Designer Working In a Print Shop for a Year
Becoming a graphic designer at a print shop was a great learning experience for one of our designers who previously worked at an agency. See what she learned in her first year working at Suttle-Straus.

Should I Design with CMYK or RGB?
If you find yourself wondering the difference between CMYK and RGB, and when to use each, this article does a great job explaining the two different color models.
Downloads

From Junk Mail to Dynamic Mail Infographic
This infographic provides a fun and informative way to learn how new, dynamic approaches to direct mail can transform brands and increase sales.



Collateral Audit Workflow Infographic
Is it time to review all your marketing collateral? Use this infographic to help you decide whether to keep, update, or archive your collateral.

Toppers Case Study
Toppers Pizza has done great things for their franchise marketing by implementing the S4 Marketing Resource Center. This case study shows how the S4 MRC has saved them thousands of dollars and streamlined workflows.
Now to Wow Videos
2016 Diocese of Madison Annual Catholic Appeal
In this video, see the creation of the Diocese of Madison's Annual Catholic Appeal, from concept to completion. The project required virtually all of Suttle-Straus' services and featured unique coatings, multiple languages, direct mail and distribution. The campaign included stationery, brochures, posters, prayers cards, and more.
Middleton High School Yearbook
Watch how the 2015-2016 Middleton High School yearbook came together, from pre-press to proofing and plating, and then to press and handwork. This unique yearbook was designed entirely by the students and is a project that Middleton High School partners with Suttle-Straus on every year.
Gressco GV Pro Brochure
See how this closed gate fold mailer was produced. Designed by our in-house creative team, it has multiple reveal panels and was printed conventionally and featured a UV textured dispersion coating. All 150,000 pieces were machine folded and mailed.