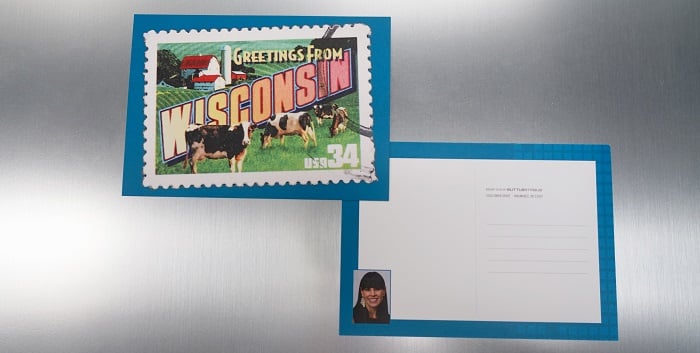 The United States Postal Service (USPS) is helping mailers by increasing the maximum size of a presorted or automated First-Class postcard to 6 inches high by 9 inches wide. The new size goes into effect on August 29th, 2021 with the new postage rate increase.
The new postcard size must have a minimum thickness of .009 and a maximum thickness of .016 to be eligible for the new postcard pricing. You still have the option to mail a 4.25" x 6" postcard using the minimum thickness of .007 if you choose to do so, and the postage rate will be the same as the larger size card.
Hats off to the USPS for making this change. Mailers have asked for this change to be made for a very long time. Mailers stated that a 4.25" x 6" postcard did not allow room needed to effectively send out marketing messages.
The extra space also helps with creating omnichannel marketing campaigns by giving the room needed for things like QR codes, which help combine the physical mailpiece with digital impressions like those that come with Informed Delivery.
Pricing for the larger postcards will range from $0.335 for a machinable presorted card down to $0.306 for an automated barcoded 5-digit mail piece. If you were previously mailing 6" x 9" postcards at the presort first class letter rate of 0.485 this is a great savings of 15+ cents per piece!
By utilizing the new First-Class Postcard size, you also receive all the advantages of First-Class mail including free forwarding, address correction and the mail piece will be returned if undeliverable. Plus, the faster USPS 2-5-day delivery standard for First-Class Mail.
Keep in mind that you will need to follow all of the rules pertaining to a presorted/automated barcoded mailing. I mentioned the minimum and maximum thickness already. The size can be up to 6" x 9" and must meet the aspect ratio of between 1.3 and 2.5 (length divided by height). The minimum number of pieces in the mailing is 500. Barcodes must be placed in the barcode read area or in the OCR read area and have all the required clear space per USPS regulations.
If you have any questions regarding the new size or mailing requirements, reach out to the Suttle-Straus team. We are here to help you with your mailing and omnichannel marketing needs.
Happy Mailing,
Rob