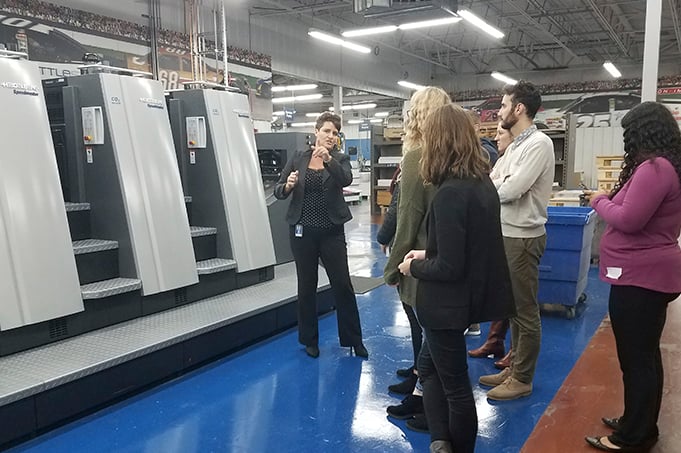 When you are starting a printing project, there are a lot of decisions to make. One important decision is whether you should print using a digital press or a traditional offset press. There are many variables to consider so let's review your options here:
Cost
Many print projects come down to budget. If you have a short run (less than 1000 pieces), digital printing will probably be more cost effective as there are no setup costs. Offset printing requires production of metal plates and "make-ready time" for the machine to warm up and get up to full color ink coverage. So even if you are doing a small run, you still have the same upfront costs.
However, if you have a larger run of pieces, offset printing will often price out as less per piece, as the cost per piece goes down the more you print. Digital printing offers the same price per piece, so no matter how many copies you make it doesn't get cheaper.
Turnaround Time
As noted in the previous section on cost, offset printing requires the production of aluminum plates and make-ready time on press. If you are on a tight deadline, digital printing may be the best way to go.
Personalization
Since offset printing uses plates to apply ink, every copy must be exactly the same. This means you can't do variable printing using an offset press.
Digital printing offers you the ability to customize each piece to it's recipient. You can use variable data to replace text and images so every piece is unique!
Size
Digital presses can only accommodate a certain paper sheet size (usually up to 19 or 29 inches). Offset presses can commonly handle paper sheets up to 40 inches in size. So if you have a larger piece like an oversized pocket folder or long accordion fold brochure you may be required to use an offset press due to the paper size needed.
Ink Choices
Your design choices may determine which kind of printing your project needs. If you want to use a Pantone Matching System (PMS) ink on your print piece to hit an exact brand color like "Tiffany & Co. blue" you would have to use an offset press, as digital printers cannot load Pantone ink. Digital presses can mix their CMYK toner to get close to a PMS spot color, but if it has to be exact you are better off using an offset press.
Similarly, if you want to use special inks like metallic ink, fluorescent ink, thermochromic ink, or other coatings like a soft touch, texture or grit these must run on an offset press.
Paper Choices
When choosing your paper, keep in mind that some papers work better on each kind of press. Most paper mills have swatchbooks with papers designed for both offset and digital presses. If you are planning to use a specialty paper that has texture or is super-thin or super-thick, a digital press may not be able to accommodate it.
Quality
When digital presses were first introduced, their print quality was not up to snuff with that of offset presses. However, with technology advances most digital presses can now print at a quality level that an untrained eye can't tell the difference between the two.
If you represent a high-quality brand with the budget to achieve absolute perfection, offset printing is the way to go. However, if "good enough" is acceptable and can save you some budget, digital printing should suffice.
Suttle-Straus has been offering both offset printing and digital printing for many years. If you are unsure which is right for you, our team can help you decide using our team expertise and estimating systems. We have many customers mix and match offset and digital printing on different pieces based on their requirements.